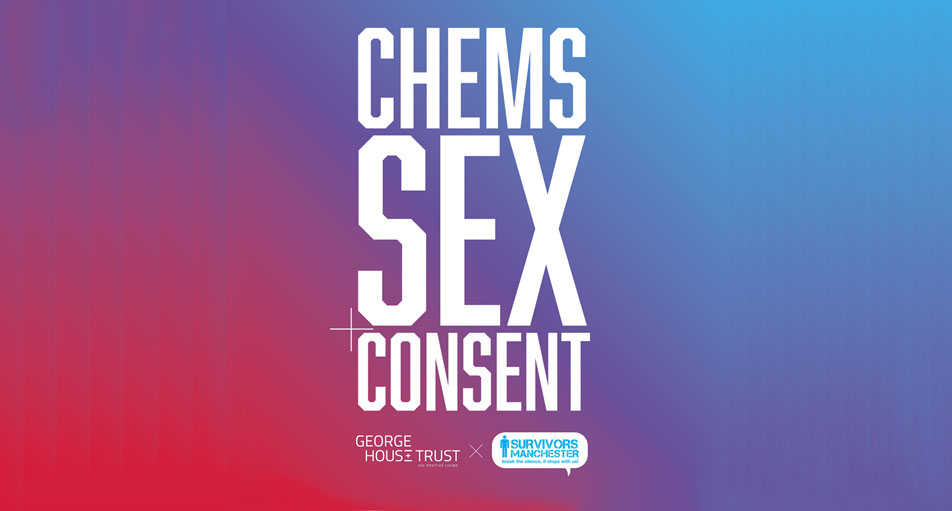 Chems, Sex and Consent
We Are Survivors and George House Trust have joined forces in a brand new project that aims to better understand the relationship between CHEMS, SEX AND CONSENT.
For many years, the two organisations have worked hard to deliver services and promote awareness of the health and wellbeing of individuals who can and do access their respective services across Greater Manchester and beyond.
Following a number of high profile cases in the UK, especially here in Greater Manchester following the conviction of Reynhard Sinaga in Jan 2020, the two organisations entered into a discussion to share their understanding of the intersection of drug use in sex, harm reduction, risk taking behaviour, HIV and the issue of consent under the influence, and agreed that they could both better understand more and so the project was born.
With We Are Survivors as the leading male sexual abuse service and George House Trust as the leading HIV organisation in the North West, both organisations want to ensure that the services they deliver are fully accessible to people involved in the use of chems in sex, including how to help individuals understand that if things go wrong, we're here for support.
The project will be split into two parts with the first part focusing on listening to the voices of individuals, groups and communities; and the second part using that obtained knowledge to share harm reduction, advice and information to professionals, communities and the wider world.
As both organisations have always put individuals at the front and centre of their work, they have designed a new way of 'listening' with a number of sessions both online and offline which will be hosted by Artist, Cultural Icon, Drag Daddy and Anthropologist, Dr Cheddar Gorgeous.
Once signed up by contacting [email protected], 'Listening Session' participants will be given password access to Cheddar's virtual study, where they can anonymously sit and chew the fat on all things CHEMS, SEX AND CONSENT, sharing experiences, personal perspective and opinions, and answering pre-prepared questions by Dr Gorgeous himself.
A group session will be conducted through We Are Survivors's Zoom on the following dates:
25th November @ 2.00pm – 3.00pm
with 1:1 slots available to speak anonymously online with Dr Gorgeous.
We're also pleased to offer an informal physical space meeting thanks to Nick and the team at The Lodge, 20 Richmond Street, Manchester, M1 3NB
7th December @ 7.30pm – 8.30pm
we'll supply the food and drinks, you supply the ideas and thoughts!
Participants have the option to remain anonymous and all information shared will be managed and stored securely. Everyone engaged with the project will have the opportunity to agree how their data can be used.
CEO of We Are Survivors, Duncan Craig OBE, said:
"I'm really excited to be delivering this project with our friends at George House Trust who I know have a great understanding of the sex and chems subject. Having spent a number of years working on the Sinaga investigation here in Greater Manchester; being part of discussions at the time on the Stephen Port case; and leading an organisation whose primary focus is on sexual violation which has supported a number of people whose experience with sex and chems has been abusive, it feels important that we bring the discussion into the open and learn how to better serve those who need us".
George House Trust Chief Executive, Darren Knight, said:
"This project is a really exciting opportunity to challenge our thinking and meaningfully engage a group of men that often struggle to engage with our services because of what's going on in their lives. I feel that what's created as a result of this work will not only have a benefit on what we do at George House Trust and We Are Survivors, but also partner agencies across Greater Manchester and beyond. The key thing for me is that if we're going to achieve zero new transmissions of HIV by 2030, we need to engage in creative and innovative ways like this".
To participate please email We Are Survivors on [email protected] or contact Duncan / Alex on 0161 236 2182.