Welcome to We Are Survivors, a survivor focused voluntary sector organisation that aims to create and facilitate safe spaces for male (including trans and non-binary individuals) survivors of sexual abuse, rape and sexual exploitation across Greater Manchester providing to access quality assured support.
Our Vision
"A society where NO male survivor

is left behind"
Our work is focused on developing ways for individuals to empower themselves to work through personal and sometimes painful issues, guided and supported by our trauma-informed team, following the trauma and recovery model.
We work hard to ensure that each person's healing journey is driven by them and know, for many of us from first hand experience, that being in contact with other survivors is the key to being able to break the silence and take back the power and control that was felt to be lost during the trauma, and move towards a positive and healthy future.
Male survivors deserve the opportunity to heal and we 100% commit to doing everything we can to make it a reality.
Our Mission
"To break the silence of the sexual abuse, rape and sexual exploitation of boys and men and support them and their loved ones to engage in positive healing, free from the impact of abuse"
To promote and protect the good health of male survivors of sexual abuse, rape and sexual exploitation; alongside those affected by male sexual violation; across Greater Manchester and throughout England & Wales.
To provide evidence based therapeutic support services to male survivors of sexual abuse, rape and sexual exploitation; alongside those affected by male sexual violation; across Greater Manchester and throughout England & Wales.
To provide qualified counsellors, psychotherapists, specialist and general support workers to support and advise male survivors of sexual abuse, rape and sexual exploitation; ; alongside those affected by male sexual violation; across Greater Manchester and throughout England & Wales; on how to cope with and move beyond their unwanted sexual experiences.
To provide education, training and awareness raising campaigns around the issue of the sexual abuse and violation of males of all ages and backgrounds, whilst continuing to learn from our work and respond effectively to new knowledge and identified needs.
As a company (Company No: 06811096) and registered charity (Charity No: 1144941), We Are Survivors is constituted by a governing document known as the 'Articles of Association'. Please click on the PDF to the left to download a copy.
Transparency: a founding principle laying in stark contrast to the bedrock of abuse
Integrity: the cornerstone of all healing
Understanding: we take all survivors and their words seriously
Responsive: we make a commitment to predicting, educating and preventing boys and men from being harmed by sexual violence
"We believe that male survivor sof sexual abuse, rape and sexual exploitation have the ability and right to cope and recover from these unwanted experiences and move to a positive future free from pain of the past"
In order to help and support Survivors create a safe space, We Are Survivors is unable to work with or offer any assistance to sexual offending adults.
We fundamentally believe in working ethically and are committed to, and adhere to, working within the BACP Ethical Framework for Good Practice in Counselling and Psychotherapy. A copy of the document can be downloaded in PDF format by clicking here.
We Are Survivors is also a founder member of a Male Survivors Partnership (MSP), a national umbrella organisation for all voluntary services working with male victims/survivors sexual abuse, rape and sexual exploitation.
Confidentiality Statement:
We Are Survivors has a strict confidentiality policy where any information that you give to the staff here will remain confidential within this service. This means that any information you give to us will not be passed on to anyone outside the organisation without your prior knowledge and permission. However, there may be rare occasions when we might have to break confidentiality in the interest of safety – such as, immediate risk to life or the welfare of a child – and we always aim to discuss this with you first, but this cannot be guaranteed.
We may keep written records of, and information regarding, users of this service and reasons for this will always be explained to you first. You have the right to see any information that pertains to you. Please feel free to ask if you wish to see your personal records.
We aim to achieve to create a safe and confidential space for all male survivors of sexual abuse and rape and are always more than happy to discuss any queries or concerns you may have.
Survivors Charter
This charter sets out your rights as a user of this service. We agree that you have the right to:
Be treated with respect
Remain anonymous if you wish
Be given information in plain language about services we provide
Know that anything you discuss with a worker is confidential within the service
See any files kept about you
Be seen as quickly as possible
Complain about the service
Tell us how to improve the service
Not be the subject of research without your consent
Not to provide any information which you do not wish to reveal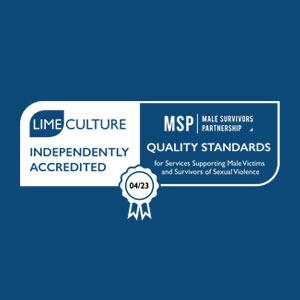 We Are Survivors is proud to be accredited with the Male Quality Standards. The purpose of the MQS is to improve the consistency of service provision for male victims / survivors. The quality standards provide a framework that can be used to develop and improve the quality of service provision to male victims / survivors, in particular recognising their gender based needs. We were re-accredited by LimeCulture and will expire on 30.04.23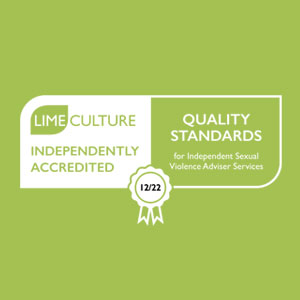 We Are Survivors is proud to be accredited with the ISVA Quality Standards. The Quality Standards for ISVA Services are made up of 20 standards across four domains; Leadership & Governance, Access & Engagement, Service Delivery and Outcomes & Evaluation. They set out the expectations of the ISVA service's leadership and staff and also the client experience. Our accreditation renewal is due 30.12.2022 and awarded by LimeCulture.
Our Equality, Diversity and Inclusion Statement – 'no male survivor left behind'
Our commitment to equality, diversity and inclusion is emphasised by our behaviours and actions which support our work with survivors and staff. We believe in going beyond the Equality act 2010 and support qualities which may not be recognised under the law. We strive to;
Embrace diversity
Listening to what our services users need
Getting the fundamentals right
Ensuring no male survivor is left behind
We are focusing on ensuring no male survivor is left behind, no matter where they are from or how they identify.
We work towards a space where every male survivor is welcomed with respect and understanding. This has been guided due to the lack of mental health support for men from different ethnic backgrounds.
Due to the nature of our work, we understand the distinct roles men may have within diverse cultures and religions and we aim to work with understanding the different challenges they may face. Our work embodies this to achieve an environment, which promotes equality of respect and opportunity for all staff members and service users.
Everyone has the right to receive support without fear or prejudice regardless of their race, religious beliefs, age, gender, disability, sexual orientation, and social class.
We Are Survivors is committed to supporting Equality, diversity, and inclusion where we hope to help end the stigma for men against sexual violence, sexual exploitation and rape.
We hope to promote and advance diversity of staff recruitment, reaching different communities to adopt an inclusive community within the workplace for staff and clients.
We hope to promote inclusive engagement for both staff and clients accessing our services.
Keeping You Safe
Whilst we want to ensure that our services and spaces are welcoming to all male survivors, we also need to make sure they are safe spaces and that all those who engage in our spaces are safe from harm. Like every organisation providing support services, we have a legal duty of care to safeguard children, young people and adults who are vulnerable or at risk and we take our responsibility seriously.
Safeguarding is often feared as being the practice of revealing 'confidential' information about an individual behind their back – this isn't necessarily true. There may be times that because of something you've told us, or a situation emerging that causes us concern for the safety of you or another, that we have to engage in discussions with external agencies such as NHS, Police, or Social Services, we always aim to discuss this with you first. We do not routinely share any survivors information or discussions we have, with others without consent.
You have an absolute right to confidentiality and anonymity and we respect that right and hold it in high regard; but we also hold the safety of survivors and others equally in high regards.
To ensure that we are always delivering our services with the highest of safeguarding assurances, we have a number or named individuals within the team that hold a specific responsibility:
Safeguarding Lead: Chief Executive Officer (Duncan) in the event of Safeguarding Lead absence, the Deputy Chief Executive Officer (Chris) takes responsibility
Child Sexual Abuse and Exploitation Lead: Chief Executive Officer (Duncan)
Mental Capacity & Liberty Protection Safeguards Lead: Criminal Justice Services Director (Alison)
Caldicott Guardian: Deputy Chief Executive Officer (Chris)
Information Governance Lead: Operations Director (Jamie)
Data Protection Officer: Data Analyst (Sam)
Risk Governance Lead: Sue Cuffe (Trustee) & Dr Andrew Tomkins (Trustee)
Senior Information Risk Owner: Chief Executive Officer (Duncan)
PREVENT Lead: Data Entry Co-Ordinator (Nick)
Suicide Prevention Lead: Senior Trauma Informed Therapist (NJ)
Freedom to Speak Up Guardian(s): Senior Trauma Informed Therapist (NJ), Senior Trauma Informed Therapist (Rob), Data Analyst (Sam)
If you would like to talk about safeguarding, confidentiality or have any concerns then contact us on 0161 236 2182 or go to our Compliments and Complaints page to submit information.
Please remember, emergencies should always be directed to emergency services on 999.
You are also able to report concerns to Manchester Safeguarding Board (MSB) on 0161 234 5001 (24/7)
Working for We Are Survivors
We work hard to ensure that we invest in our team members, from training and development opportunities to salary and employment benefits, including our mandatory birthday leave day! From time to time, we have various consultancy, training and employment opportunities which we advertise on our social media platforms (see Twitter or Facebook or Instagram) or on our online Journal. However, to make it even easier for you to see if we have vacancies, we've listed them here below:
You can find all of our current vacancies listed in our online journal. Click this link to check out opportunities with We Are Survivors and take the next step in your career.
We are often contacted by both Social Work students or trainee Counsellors/Psychotherapists looking for a placement.
It is important to us that we invest in the future training of mental health and social care professionals and so we are actively engaged in the training of the professions through lecturing and workshops in such establishments as University of Manchester, Salford University and Manchester Metropolitan University.
However, we are unable to provide placements to students at present due to the sensitive and complex nature of our work, although it is something we are working hard to develop further.
Watch this space for future opportunities.
Main Centre
Unit 9, Brewery Yard,
Deva City Office Park,
Trinity Way,
Salford,
M3 7BB
Registered Office
P.O Box 4325
Manchester
M61 0BG
Opening times
Monday: 9.00am – 6.00pm
Tuesday: 9.00am – 8.00pm
Wednesday: 9.00am – 6.00pm
Thursday: 9.00am – 8.30pm
Friday: 9.00am – 6.00pm