This Team has the 'Psychological Edge'
It's been, to coin a phrase, "one helluva month" and thats not any reflection on the weather and everything to do with the Survivors Guide Editorial Team.
During September and October much of the work of the team has been individual tasks or in small groups so when we were offered the opportunity to work with Author and Performance Coach Robert Martin Hall, we jumped at the chance. Our main funders, Zurich Community Trust whose local partnership funding is helping to support the work in this project, made it possible to work with Martin. We'd also like to thank the Garden's Hotel for providing us with a value for money conference room (they have been so kind and considerate to us – Thanks Keith and team).
Martin's course, The Psychological Edge, has been absolutely transforming, both for each individual and for the editorial team as a whole.
Some of the team commented:
For years and pretty much all my life, the legacy of sexual abuse has been self-degregating and has held me back from living a fulfilled life. This course has genuinely altered my thinking, my perspective on life and has been paramount to backing up and reinforcing the indispensible work of We Are Survivors.
I AM 50 YEARS OF AGE, MARRIED WITH TWO TEENAGE DAUGHTERS, We Are Survivors AND MARTIN ROBERT HALL POSITIVE COURSE HAS ENABLED ME TO LIVE MY LIFE IN A WAY I ALWAYS WANTWED but was unable to do. I am now a much HAPPIER POSITIVE PERSON with lots of goals I know I can achieve
I could achieve before but now i have a sense of achievement and u have the tools to sustain change. I've lernt how to polish a turd (my abuse) and turn it into a positive
I have found my old self not the guy full of doubt anymore! And that's how i feel this course has benefited me. (I FEEL STRONGER)
Work on the guide has been transformed too, with the guys creating some incredible work and all of this thanks to one man that has helped us work together and shown each and every one of us that we can achieve whatever we want. What we want is a book that will help boys and men step out of the darkness and be free of the past.
December is nearly upon us and as most of the ground work is done now and we have begun editing, we are seeing the results of all our hard work. We are not far off deadline now and already we can see how fantastic this is going to be. Once again, Dave at Jam PR has worked his magic and begun to create some amazing visuals and ideas for pages using all of the lads individual work, like this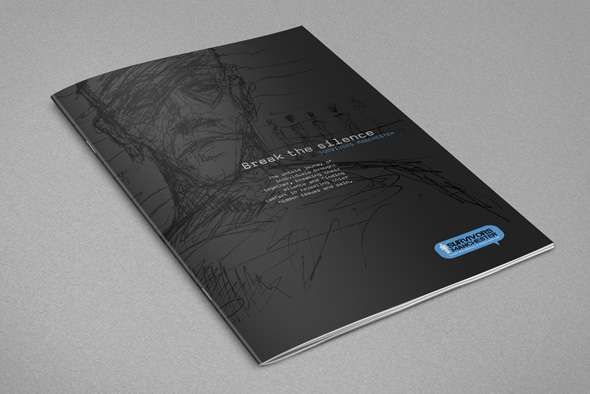 So until next time, have a Merry Christmas and happy and safe New Year.