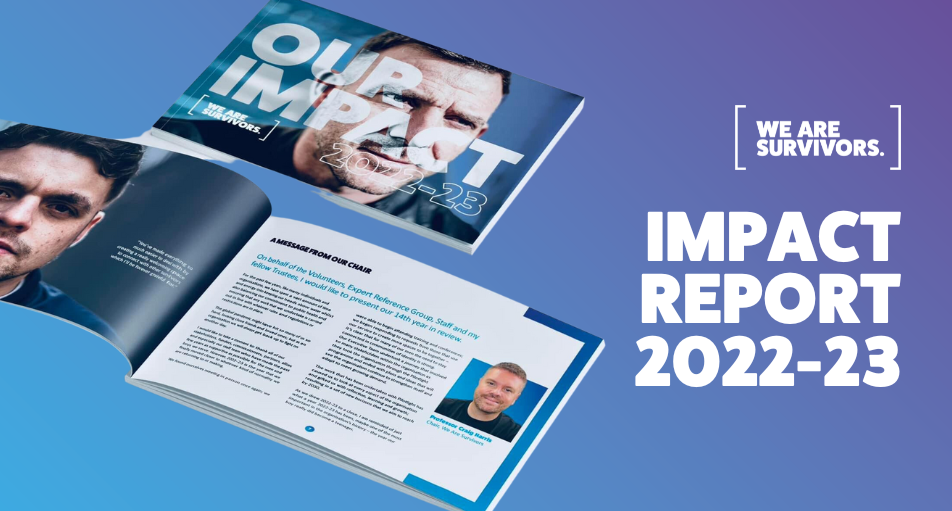 We Are Survivors Impact Report 2022-23
Launched at our Annual General Meeting on 4th October 2023, we're proud to present our Impact Report for 2022-23.
It's the story of a year of change for We Are Survivors. It's the year we emerged from a global pandemic with renewed vigour and an even greater determination to work towards our vision of "a world where no male survivor is left behind." It's also the year we changed our name from Survivors Manchester to We Are Survivors.
Duncan Craig, OBE and Chief Executive: "Whilst emerging from a pandemic takes time, there is a constant pressure to reflect on the decisions you're making. Whilst this is tiring, the time also brought me, as the Founder and Chief Executive Officer of this amazing organisation, a new clarity that I don't feel I'd had before. When we set our organisational values (Transparency, Integrity, Understanding and Responsiveness) I'm not too sure that we fully understood them or why we held these and not others. In walking through the exit door marked 'Post-Pandemic', I have come to realise how much our core values were tested during the pandemic and how holding onto them saw us through to a time where we see more clearly how they are embedded as part of our DNA. Personally, I have held on to them so tightly during the year and in response they have enabled me to be the most transparent and open to challenge, change and growth that I have ever been.
We have always made Greater Manchester our home and have always provided to support to men and boys beyond Manchester, and our name has never fully recognised that. We have always talked about making a change but it's never felt like the right time. However, as we've moved much more into the North West region due to our work in prisons, and we're finding ourselves being asked more and more about wider UK delivery, the right time feels like its upon us. So it gives me such pleasure to be able to announce that from April 2023, Survivors Manchester will become and legally known as We Are Survivors. Its simple, it's self explanatory and it's who we are… WE ARE SURVIVORS."
You can read or download our Impact Report 2022-23 below.