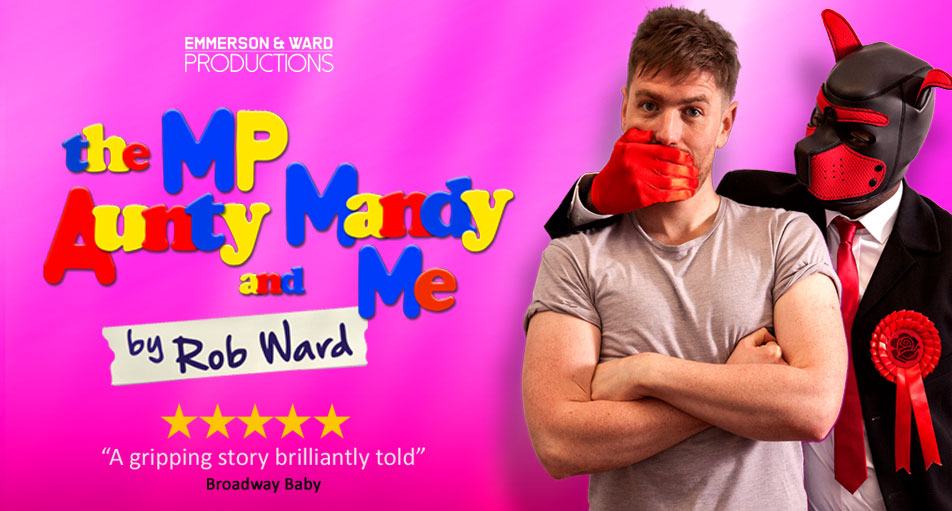 The MP, Aunty Mandy & Me
We Are Survivors is proud to support Emmerson & Ward Productions with their first ever UK Tour of the brilliant The MP, Aunty Mandy and Me, direct from the Edinburgh Fringe 2022.
The MP, Aunty Mandy & Me explores consent, coercion and grooming within the gay male community with biting humour and contemporary social commentary.
Meet Dom. He wants more than anything else to be an #instagay #influencer but it's tough when no one likes your posts, you can't find a bloke who shares your love of trains and you live with your MDMA popping, Simply Red loving mum in a small northern village five miles from the nearest gay. He'd love a fabulous life with the A-Gays in the city, but his social anxiety prevents this from being a reality. It's all a bit of an effort.
Then one day, a chance encounter with his local MP turns everything upside down. But in pursuit of the life he thinks he wants; just how much does Dom have to give up?
This thought provoking and critically acclaimed piece of theatre is an important part of the discussion on sexual consent, part of the reason why We Are Survivors is delighted to be involved. Throughout the tour, a number of special events will be delivered by We Are Survivors CEO, Duncan Craig OBE; and the shows writer and performer, Rob Ward; in which both will discuss art/performance and difficult subjects, including consent, and the impact of sexual violation of males on society.
Tour Dates
Click on a venue/date to open the theatre's online box office
Staffordshire University – 27th Sept
The MP, Aunty Mandy and Me is by award winning writer and performer Rob Ward (Gypsy Queen, Away From Home) presented by Emmerson & Ward Productions in association with Curve and directed by Clive Judd (Rails, Captain Amazing, Little Malcolm And His Struggles Against The Eunuchs).
Please note, this show contains strobe effects, strong language and scenes of a sexual nature that some may find triggering.