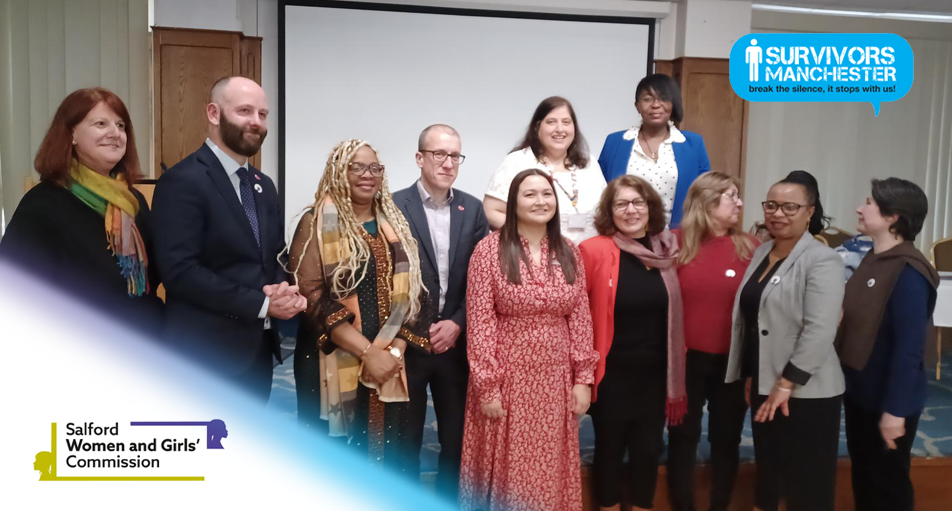 From International Women's Day and beyond
Considering the findings of the Salford Women and Girls' Commision.
For Survivors Manchester, as a charity directly involved in the support of male survivors of sexual violence, considerations around the sectors response for men and boys and how this sits within policy for VAWG (an end to Violence Against Women and Girls), has always required sensitivity.
Rightfully, our stance is to advocate on behalf of ending the silence for men and boys around sexual abuse and bringing cultural understanding that sexually violent acts are committed against males into consideration. We have also always maintained our commitment to work with other organisations in our stand against the sexual violence women and girls continue to experience.
There are in fact women who have found they need the support of our charity directly. For female partners and loved ones of male survivors, pervasive silence and the confusions and fear felt by those women should not be overlooked. We are proud that we provide room to grow and find support for women in an area where there has traditionally been little understanding or awareness; the sexual abuse experienced by men.
We also continue to remain open to learning ways in which women can be championed and their need for safety recognised and responded to. It was in this vein that some of our staff were heartened to attend a presentation and Q&A panel for the final findings and recommendations of the Salford Women and Girls' Commission on International Women's Day 2023. It was clear from the day that while some men had been in attendance, there was a need for much more engagement from men in the findings and solutions put forward by the commission to address the violence women and girls experience.
One man in attendance who spoke with compassion and strength amongst the many amazing female speakers of the day (not least the brilliantly charismatic Cllr Sharmina August who presided over the event) was Cllr Paul Dennett, the City Mayor of Salford. Paul presented his commitment following the findings of the commission, to improve not only the provision for disadvantaged women to overcome disproportionate poverty, but also to address a need for safer public transport and a greater engagement of policing in this area specifically.
The panel acknowledged how both men and women have the capacity to be victims of rape and sexual assault, while reminding us of our responsibility to address toxically normative language and ideas presented to us all from our childhood onwards.
"Boys don't dry, stop being a girl"…"That's not very lady like" etc;
When the consequences of such language determine both the ability of boys to empathise with the position of girls and with each other, the nuances of such rhetoric should not be overlooked.
In order to understand and prevent sexual violation, we must also recognise the damage we instil in placing normative gender expectations on ourselves that have toxic connotation. It was commendable in this light to see how the findings of the commission view young men groomed into 'Incel' ideology as victims themselves given the nature of coercive grooming.
As a charity who support men thrust into silence about their own experiences through shame that is informed at least in part by toxic expectations to 'man up', we will always aim to support healthier expectations and language around gender.
Above all, we would never be able to achieve the support we offer male survivors without the incredible work of women before us across the domestic and sexual abuse sector of services. We can only do what we do because of the women who have forged a path forward and to those women, we show our gratitude and our respect.
May the findings of the Salford Women and Girls' Commission develop momentum well beyond International Women's Day.
Michael Roberts
Communication and Engagement Co-Ordinator
Survivors Manchester / Greater Manchester RASSO partnership