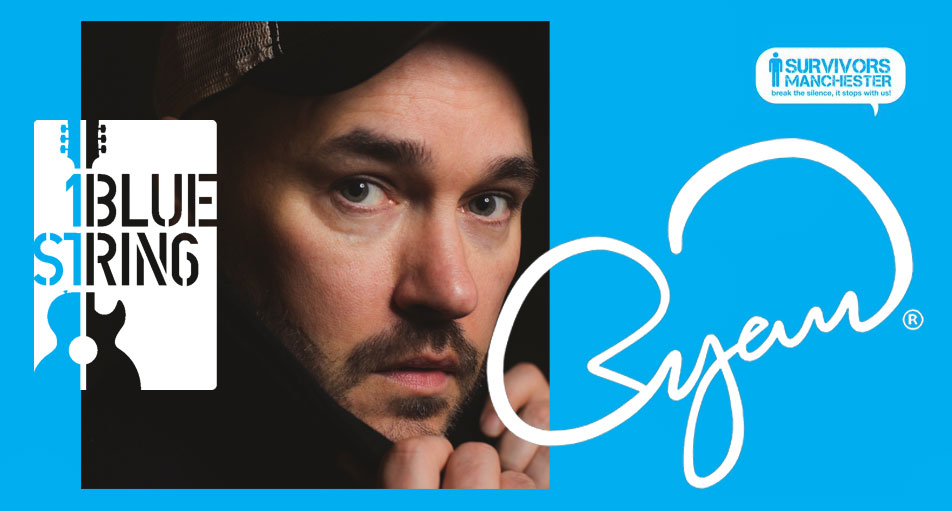 Expression Through Music
In January 2020, the world learned of the horrific crimes committed by Reynhard Sinaga and no where in the world felt it like Manchester felt it as it was right in our city, under our nose, that Sinaga raped over 200 men.
Sat watching the news, Canadian born-Manchester based signer/songwriter, Ryan Lamey needed to process what he was hearing and watching and so using his talent, penned his creative expression in song. Ryan has released this song as a way of raising money for We Are Survivors and you can download this here: DOWNLOAD SAMARITAN and we invited Ryan to say a few words too:
"Like many, I've found myself feeling deeply affected by the increased exposure to numerous headlines and reports about young men being preyed upon, drugged and sexually assaulted and raped on nights out. Recent television programmes and documentaries have also placed it firmly into the public consciousness. And for me this was particularly felt as details of the high-profile and horrific case in Manchester began to emerge in 2019.
I really found myself at a loss at the time – carrying around all that I'd been hearing and reading about the case and trying to make sense of what was being reported. I guess I was also trying to work out why I was having such a seemingly visceral reaction to it all.
Of course I couldn't stop thinking of all of the identified victims, their friends and families – who would be forever changed. Having a son myself, I cant even begin to imagine how these young men and those closest to them processed what had happened. Especially considering the circumstances that many of them came to even find out that they had experienced such a terrible and shocking encounter.
I thought about how, in the past, I'd found myself in compromising situations, transporting around within a bubble of false security – off my face in the city, in the small hours. For my part, foolishly overestimating my power and level of control in particular situations. I've woken the next day in unexpected places, oblivious to large portions of the night before; blissful in ignorance.
And as a queer person, I've found it hard to reconcile with the fact that the most high-profile perpetrators of these crimes have been gay men. I've bristled to suggestions in the media that these were "gay crimes" as opposed to crimes that happened to have been committed by particularly – and uniquely – depraved gay men. Regardless of sexual orientation or of the circumstances that brought victim and perpetrator together – it comes down to the fact that these are cases of a person incapacitating another person for unfathomable ends.
And this is where the song "SAMARITAN" came from. I had been in the midst of writing and recording an album when I felt compelled to just stop everything and write and record this song. Writing it and "getting it out of my system" went some way for me to process the feelings of distress I'd been carrying around.
I've chosen to share the song, in part, because I realise I'm probably not the only one who's been similarly affected. It also occurs to me that part of why it seems so difficult to process news on the subject of male sexual assault and rape is that it's a topic so rarely discussed. So if putting something out there into the world that engages people to have conversations, then that's surely something positive.
At the heart of all of the local reports I'd read at the time was We Are Survivors, who had been supporting police and victims throughout and beyond the revelations of these crimes. The more I read about the charity, the more I was moved by how much they have done – and continue to do – for male survivors of sexual assault, rape and sexual exploitation. And so this is why I've chosen to use the song to raise money for the charity, so that I can contribute in my small way to ensuring they can continue the essential work they do.
My heart sinks for the inherent shame felt by victims of rape and sexual abuse. Particularly male victims. So much is left unspoken, with – so often – some sort of onus of blame for being in a vulnerable position in the first place.
I truly hope that by continuing the dialogue and raising awareness helps to bring an end to the stigma and feelings of shame felt by victims"