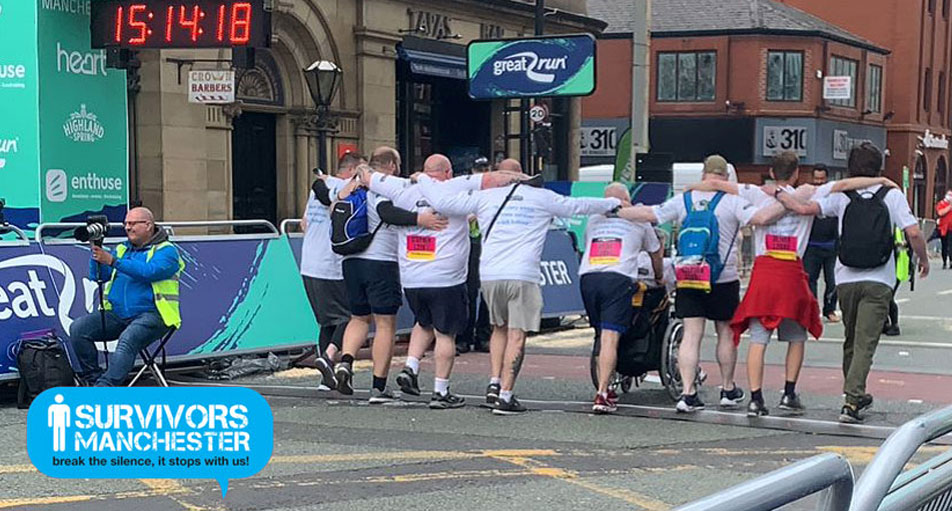 10 Male Survivors do 10k
On Sunday 22 May 2022 at 12:40pm, 10 male survivors who access(ed) We Are Survivors's support services stood at the start of the Great Manchester Run and with Eastenders actor, Aidan O'Callaghan, crossed over the starting line and well and truly broke their silence.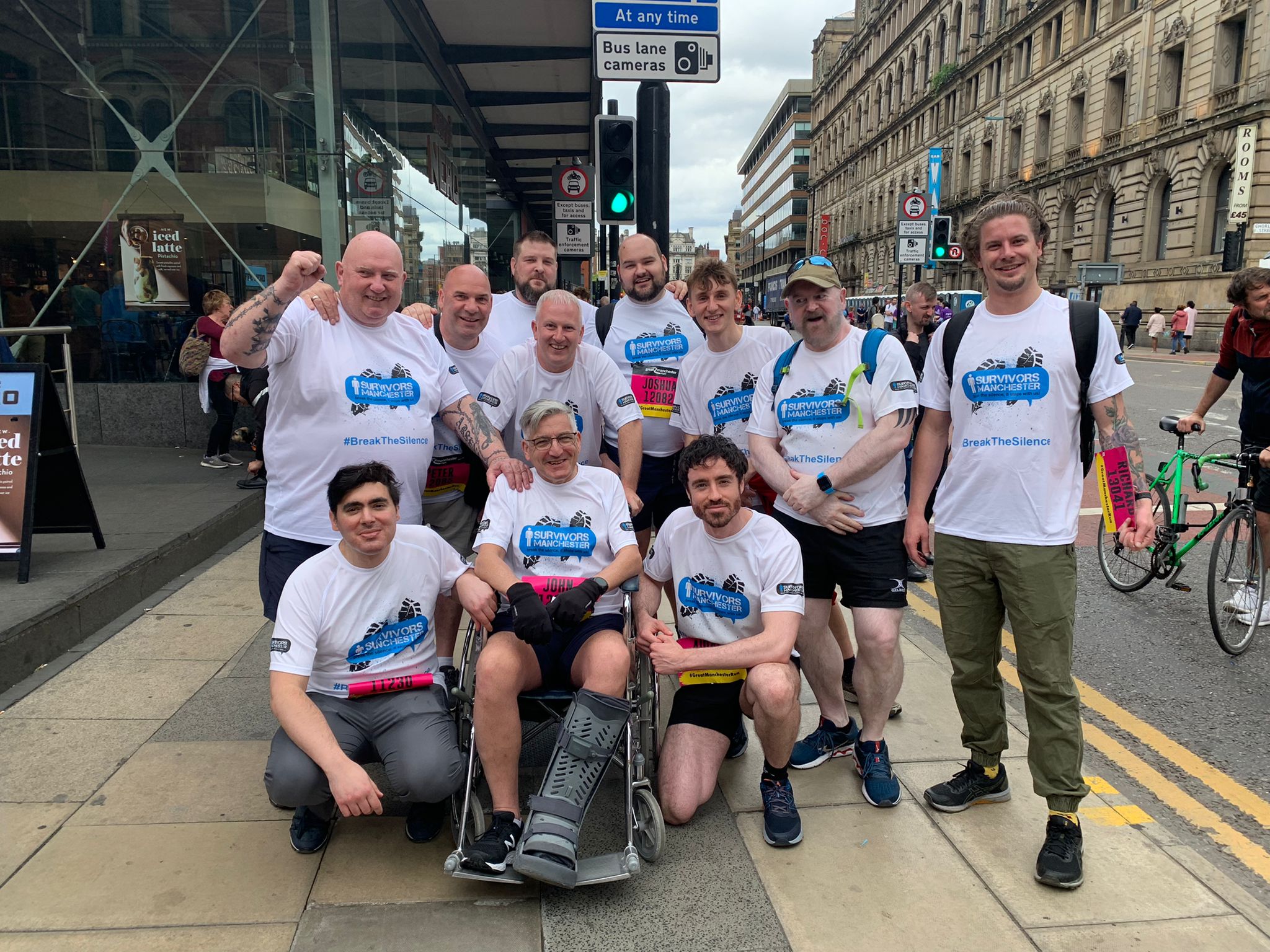 The Manchester 10k has a special connection with We Are Survivors as it was the activity that Christos, one of our friends and now one of our amazing trustees, undertook to raise money that bought us our first 'pay-as-you-go' mobile and laptop that enabled us to open a few services back in 2009. So when we found out that 10 male survivors had organised themselves to step up to join forces together and do the 10k to raise money for the services that they use, we were, well choked up to say the least.
Duncan, founder and CEO, said: "Stood in the middle of the city with these men, many of whom I had never met before, I had a really 'out of body experience and full circle moment'. When I set We Are Survivors up, I did it because I didn't want any male survivors in Greater Manchester, my home city area and I did it with money that my friend Christos raised. Then fast forward 13 years later and here are a load of male survivors that have used and use the services we've designed and deliver doing something about securing services for them now and future male survivors. As I watched them all pass through the starting line, I got emotional and took a picture in my mind to cherish forever and remind me that in the tough times and the times where I feel like I've had enough, it will inspire me to push on".
This incredible bunch of individuals was also joined by Eastenders actor, Aidan O'Callaghan, who plays Lewis and is involved in a big storyline looking at the issue of male rape and consent. Aidan has been an incredible ally to us, spending time at the office talking to staff and learning all about what it is we do. The team were incredibly proud to have him run alongside them and referred to him as the 11th #TeamSurvivors member.
Aidan said  "I am honestly so inspired by them all. I got emotional at the end when I saw the group so happy and supportive of each other hugging. Simply beautifully metaphorical. So proud to be involved. The courage the lads showed today was really moving. Well done to everyone".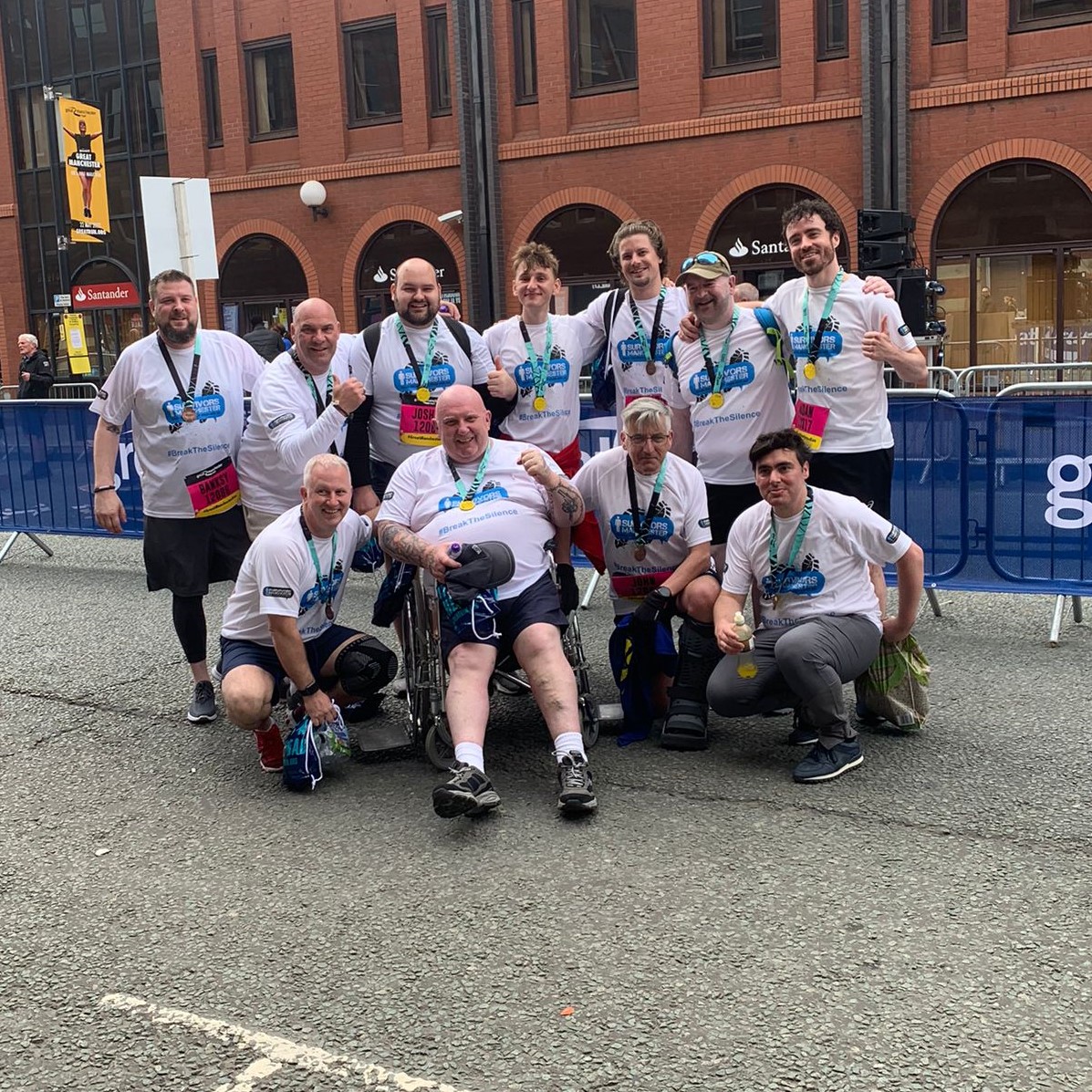 For some of the team, this was the first time that they had been public about their survivorship and some had even engaged loved ones in the discussion to ensure that when they run, they are running free. During training, one of the team hurt his foot and is in a cast but determined to not let that stop him, he brought his wheelchair along with the rest of the team taking turns in pushing him around the course.
If you want to know what healing is like, then here it is. If you want to know what community is about then here you are.
If you want to donate then please go to: www.justgiving.com/survivorsmanchester